Updating this with more craftable items in Pixelmon soon.
How to craft Poke balls
To craft Poke balls you need :
3 Apricorns ( this decides which Poke ball disc you get)
Cobblestone
3 Iron ingots
Furnace
Coal/Lava bucket/Wood
Anvil
Hammer
Step 1:
Gather the Apricorns from the Apricorn trees, you need 3 Apricorn's to make a poke ball lid.
Here are the trees where you can get them from :
once you get the Apricorns you need in our case 3 red Apricorns, go to your furnace and put them inside to get cooked Apricorns.
Once you get the 3 cooked red Apricorns put them in your crafting table to make poke ball discs.
Right-click the Poke ball discs to put them on an anvil and then use your hammer to hit on them to make Poke ball lids.

You can find the first stage of the Poke ball disc on the left anvil and the 2nd phase on the right anvil.
Heres the 3rd phase of the poke ball disc:
When they're in the 3rd phase, right-click the Poke ball disc and it will turn into a Poke ball lid.
The top part from the Poke ball is finished, just 2 more parts to go.
the 2nd part we need for our Poke ball is a button and to make a button you will need to :
Mine cobblestone and put it in the furnace to get stone and then put the stone in your inventory crafting to get buttons
the 3rd part we need for our Poke ball are 3 Iron ingots. You can get iron ingots from defeating Magnemites in the Plains/Taiga biome or by mining iron ore and putting it in the furnace.
You can make 5 iron discs with 3 iron ingots.
Now put your iron discs on anvil by right-clicking the iron disc, then hammer on it just like on how we did before on the Poke ball discs. Just like the Pokeball discs the iron disc has 3 phase and when its in the 3rd phase you can right-click on it to get a Iron base.
Then put the Poke ball Lid on the top row of the crafting table, the button on the middle row just below the Poke ball Lid and the Iron Base below the button to craft a Poke ball.
To craft different kinds of Poke balls you need to use different Apricorns :
Great ball : Blue, Red, Blue
Ultra ball : Black, Yellow, Black
Fast ball : Red, Yellow, Red
Luxury ball : White, Red, Black
Dusk ball : Green, Black, Green
Safari ball : Green, Green, Yellow
Nest ball : Green, Yellow, Green
Heal ball : White, Pink, White
Net ball : Black, Blue, Black
Premier ball : White, Red, White
Timer ball : Red, Black, White
Friend ball : Green, Yellow, Red
Heavy ball : Blue, Blue, Blue
Level ball : Yellow, Red, Black
Moon ball : Blue, Yellow, Black
Dive ball : Blue, Pink, Blue
Love ball : Pink, Pink, Pink
Repeat : Red, Black, Red
How to craft Rare candies.
In Pixelmon it is possible to craft Rare candies and I'll teach you how to make them.
List of what you need :
Apple -> Golden Apple(1)
Sugarcanes -> Sugar(1)
Glow stone dust(1)
Gold Ingots(8)
Apples : You can obtain apples by killing Snorlax or chopping leaves from Oak trees.
Sugarcanes: This one is hard to find, but there are a few people who sell them. You can find Sugarcane near dirt/grass/sand that's adjacent to water.
Glow stone dust: You can buy Glow stone dust from the Poke mart or you can obtain them by killing Pikachu.
Gold Ingots: You can get Gold ingots by mining for Gold Ore and smelting them in the furnace or by killing Meowths and Persians and get Gold Nuggets ( 9 Gold Nuggets = 1 Gold Ingot).
Step 1: Get 1 Apple and 8 Gold Ingots, then put them in the Crafting Table with the Apple in the middle and the Gold Ingots surrounding the Apple and you will get a Golden Apple.
Step 2: Get 1 Sugarcane and craft it into Sugar.
Step 3: Put the Glow stone dust, Sugar and Golden Apple in your Inventory Crafter or Crafting Table to make a Rare Candy.
——————————————————————————————————————————————————
How to craft Healer
A healer is used for healing your fainted / low HP Pokemon. You can find them in every Poke center or craft them yourself.
To craft a healer you will need :
Aluminum Ingots -> Aluminum Plates(4)
Iron Ingots(4)
Diamonds(1)
Aluminum Ingots: You can get Aluminum Ingots only by smelting Bauxite Ore (you can obtain Bauxite Ore by mining for it).
Iron Ingots: If you read the how to craft Poke balls section, you will know how to obtain Iron Ingots.
Diamonds: You can obtain Diamonds by mining for them or by killing Dratinis.
Step 1: As soon as you got the Aluminum Ingots place them on the Anvil and start hammering on them until they become Aluminum Plates.
Step 2: Place the Aluminum Plates in each corner of the Crafting Table and place the Diamond in the middle and then fill in the other 4 spots with Iron Ingots.
How to craft a PC
A PC is used to store your Pokemon in the computer. You can only carry 6 Pokemon with you so all the other Pokemon are being held in the PC which u can find in every Poke center.
To craft a PC you will need :
Aluminum Plates(6)
Glass panes
Redstone Lamp
Redstone dust
Aluminum Plates: If you read the how to craft a healer section you should know how to get them.
Glass panes: To get Glass panes you need to melt Sand(6) into Glass(6) and then put them in the Crafting Table to craft Glass panes.
Redstone dust: You can obtain Redstone dust by mining for Redstone Ore.
Redstone Lamp: You need 4 Redstone dust and a Glow stone(4 Glow stone dust in your Inventory Crafter) to craft a Redstone Lamp.

PC: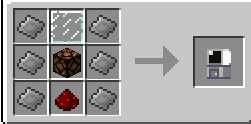 ——————————————————————————————————————————————————
How to craft a Fossil Cleaner
A Fossil Cleaner cleans the fossilized Pokemon so that you can revive him in the Fossil Machine.
This is what you need for a Fossil Cleaner:
Aluminum Plates(6)
Redstone dust(2)
Glass panes(1)
If you read the other sections you will know how to obtain the listed items.

A PC is an item that is essential to any Trainer who wants to «catch 'em all». PCs can be crafted, found in some Pokémon Centers, or obtained as a drop from certain Pokémon. A PC can be broken faster with a pickaxe, but it will drop as an item regardless of whether a pickaxe is used to break it.
Once a trainer has six Pokémon in their party and another Pokémon is caught, it will be sent directly to the PC system. The Pokémon storage can be accessed from any PC system. Within the PC, it is possible to either swap Pokémon from the party to the PC or use the PokéChecker function within the PC to view a Pokémon's stats. The PC has 30 storage boxes by default, each box being able to hold 30 Pokémon for a total of 900 Pokémon (effectively 906 Pokémon in total including the player's party). The number of boxes can be changed in the config, up to a maximum of 256 boxes (7,686 Pokémon including the player's party). There is also a release function (the trash can) within the PC that allows the player to release Pokémon. Pokémon can be moved by clicking a Pokémon and then either clicking an empty square or another Pokémon in the PC or party, moving the Pokémon to the square and swapping places with the other Pokémon if applicable. Clicking the buttons on top will allow the player to go through the boxes. The PC does not heal Pokémon like it does in the Pokémon games.
It is possible to use dye on a PC to change its color. This cannot be done via the crafting interface; the PC must first be placed. Only the player who placed a PC may dye it. After dyeing a PC, breaking it will still return the default red PC as an item.
In order to craft a PC, six aluminum plates, a glass pane, a redstone lamp, and redstone dust are needed. When a PC is crafted, there is a small chance that you will receive one of Porygon's constituent parts, used to create the Porygon item.
Описание
Скрины
Видеообзор
Комментарии
Установка Forge
Если вы любите Майнкрафт и Покемонов, то ты наверняка полюбишь Pixelmon, в Minecraft мод который добавляет около 300 милых тварей с мультфильма покемоны в игру . Хотя много модов которые добавляют Контент в игру, как известно конфликтовать с другими модами работает правильно, Pixelmon делает никаких изменений любых файлов баз, что означает, что он хорошо работает с подавляющим большинством других модов и может быть использован прямо рядом с одними из самых популярных в майнике дополнения существующих сегодня.
Добавление 294 разных покемонов для Майнкрафт была задача не из легких, и не маленький мод Pixelmon потому, что все новое содержание. Это не просто косметический мод, который дает подтяжку лица моделей уже существующих в игре – Pixelmon на самом деле включает в себя нападение системе разорвал прямо из покемонов, с более чем 500 отдельными ходами атаки и даже статус недуги, чтобы заставить его играть и чувствовать себя как ручной Покемон игры. Там даже функционирование pokedex для отслеживания того, какие монстры игрок поймал!
На самом деле, помимо блочных текстур, некоторые игроки не могут даже осознать, что они, играя в Minecraft, не Покемон. Есть ископаемые машин для оживления окаменевшие твари, которые можно найти по всему миру, и даже Pixelmon добавляет торговую систему для Майнкрафт, так что игроки могут обменять их поймали монстров всякий раз, когда настроение ударяет. Несколько модов добавить столько контента для Майнкрафт Pixelmon как никак.